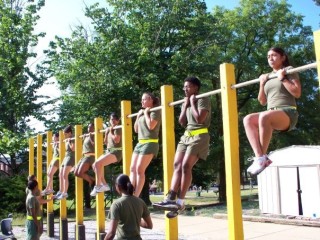 Last fall, the Commandant of the Marine Corps announced that starting in January 2014, as part of the annual Physical Fitness Test, female Marines would be required to perform pull-ups just like male Marines. The announcement was a long time coming and way overdue. (And no, I have no innate ability when it comes to pull-ups. On the contrary, my upper body strength is unimpressive, and as work and family demands have increased over the years, my interest in getting stronger regularly falls by the wayside, trumped by everything else that needs constant attention. A weak excuse, sure, but we've all been there.)
But PFT changes are way overdue, and adding the pull-up requirement is an honest start. It's only right that as Marines, if we expect some to perform pull-ups as part of the PFT, we should all be expected to do them. The flexed arm hang is a poor approximation for upper body strength; I consistently max it and have yet to practice it. But critically, for a service that prides itself on its high standards, expecting—requiring—different outcomes based solely on gender creates more problems than it solves. The Marine Corps should expect all Marines to meet the minimum standards, not just some. Pull-ups may be harder for me to do than others, but I should be able to perform them as required. And I will, it'll just take more work on my end.
So when I recently heard a rumor that the Marine Corps is reconsidering the requirement for women to do pull-ups based on low success rates and sub-par numbers, I slapped my forehead in response. It's only been seven months since the initial announcement, and we're already rethinking it? We're talking about discarding the pull-up requirement before it even goes into effect? This bothers me on every level. To those making this decision: don't take it back. To say to the women out there, "We were wrong, you're not capable, go back to your arm hang and sorry we had you all worried?" Please, please don't. Stick to the standard, keep the expectations high. Force us all, male and female, to hoist ourselves up to that bar. At least three times, and preferably many more.
The PFT has its share of problems: the different standards for men and women, the way it reeks of favoritism, how it diminishes us as Marines by expecting less, and the way the sliding scale also favors age (but no one complains). On one level, I get it: it's a fitness test, and I recognize that we're trying to measure a fitness level and not unambiguous strength in three areas. But we go about it wrong, resulting in a convoluted system that misses the boat. We were heading in the right direction with the pull-up change. Let's get back to that.
Think about this. We're only seven months into the change. Seven months doesn't mean squat when we consider the weight of the preceding years and the different expectations many people face in high school and college. There's a giant gulf between what is expected athletically of men and women from a young age. By my husband's senior year of high school, he was required to perform ten pull-ups as part of his P.E. classes after years of preparation. By my senior year of high school, I was required, after building up to it over a year, to run a mile. One mile, that was it. Pretty sure we didn't even have to run the whole time. There was no expectation for girls to do pull-ups, pushups, or any other strength training. Which one of us showed up better prepared?
Many of us have to start from scratch, or at least from a low standard. But we are talking about Marines; if we expect Marines to do something, they generally won't disappoint. Give the standard time to work. Give Marines time to believe that we can all do it and then to act on that belief. We've got time: the requirement doesn't take effect until next January. This spring, realizing that it had been years since I'd attempted pull-ups, I set up a bar in the hallway, jumped up there, and tried to knock some out. It was an epic failure. But after working on it, I'm there now. I can't max it yet, but if I can haul my old, mother-of-three self up on that bar and make it happen, then so can anyone.
The point? This is about pull-ups, but it's really about much more. Don't go back to the ridiculous arm hang. Make us all work for it. Set the bar high, and Marines will reach it.

Posted by
Jeannette Haynie
in
Marine Corps