For those that have done a tour with the Forward-Deployed Naval Forces (FDNF) in 7th Fleet, it is known especially well that the long-term schedule is taken with a grain of salt. Stateside deployers have the luxury of knowing their deployment timeline years in advance. However, the Japan-based ships in 7th fleet, especially the nine destroyers and cruisers that make up the backbone of the battle force, face uncertainty every day.
Due to rising Asia-Pacific tensions, FDNF operational tempo (OPTEMPO) has increased dramatically and the continued requirements that ships have to meet also continue to increase. It is quite frequent for ships to be called out to sea at little-to-no notice for any number of different missions including anti-submarine warfare (ASW), ballistic missile defense (BMD), and even humanitarian operations! The jam-packed schedule does not allow for any wiggle room – this means that ships are also called up last minute to replace others that are down a warfare area, have an engineering casualty, or need extra time to prepare (or re-prepare) for a major inspection such as Board of Inspection and Survey (INSURV) or Type Commander Material Inspection (TMI). Unfortunately, Sailors and their families take the blunt of the unpredictable schedule, and in my opinion, it is one of the main reasons one chooses not to do another FDNF tour.
Every year, during the winter holidays, all FDNF ships go into a month-long holiday stand-down. While the idea that each forward deployed Sailor be afforded the opportunity to take leave with his or her family during the holiday season is in good principle, it has become outdated and highly inefficient. From a strategic perspective, we are most vulnerable with the entire FDNF in port at the same time. From an operational perspective, ships still need to be fully available for tasking. Consequently, with the increased OPTEMPO, decisions to recall ships on stand-down are becoming more frequent. Every year for the last four years, ships were recalled around the holiday season with little-to-no notice to fill tasking like ASW and BMD. Last winter, just in airplane tickets alone, my ship's Executive Department spent countless hours writing letters to send to airline companies asking for "refunds" for Sailors because of unforeseen operational commitments. Additionally, since these ships need to be recalled within a matter of hours, policy dictates that there can't be more than 10% of a command's total personnel on out-of-area leave. Therefore, it is not uncommon for Sailors to be denied leave if they want to travel home, and sometimes Sailors go a whole tour without being able visit their families.
The good news is that with a little common sense, the 7th Fleet schedule and stand-down policy can be changed to be truly effective. Instead of all ships having stand-down once a year overlapping at the same time, ships could rotate through more frequent and shorter stand-down periods coinciding with federal holidays throughout the year. Short notice tasking that would normally be given to a ship in stand-down would instead be referred to any number of other ships that are not in stand-downs, either in-port or underway. The ships in these new stand-down periods would still be available to respond in a national emergency, but would not be eligible for any other tasking – thus the stand-down period would be designated as a "Selected Limited Availability" (SLA).
To maximize readiness during stand-down periods, if two ships are on stand-down for the same holiday, one would have the bulk of their stand-down during the weeks preceding the holiday and the other would have it following the holiday. To ensure that the schedules are not changed and to keep SLAs as efficient as possible, stand-downs would be scheduled immediately following, preceding, or during definitive in-port periods (ie: Selected Restricted Availabilities (SRA), training and maintenance cycles, and major inspections). Since these scheduling guidelines never allow more than a couple ships to be in a limited availability at one time, the average number of ships that would be available for tasking throughout the year would not actually decrease.
Because the limited availability means personnel would not have to be recalled to the ship in a short amount of time to go underway for tasking, a much greater percentage of the command would have an opportunity to take out-of-area leave. Ships would then be manned by skeleton crews in collapsed duty sections by members of the crew not on leave. To make up for standing more frequent duty, personnel could get a shorter work day for required maintenance and upkeep or get their non-duty days off completely. Those taking leave would still be carefully tracked to make sure a contingency plan is in place if a Pearl Harbor or September 11th-like wartime scenario occurred. In this event, a ship could still respond immediately instead of waiting for out-of-area personnel to get back, and, if necessary, augment personnel from another ship to meet vital manpower requirements (such as those ships in other availabilities).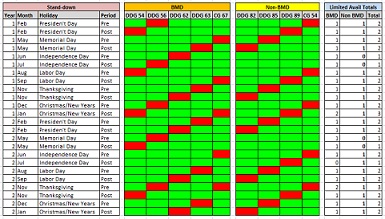 Although the specific long-term availabilities and training cycles of ships are classified, a sample model can show the basics on how a new optimized schedule might look with the nine FDNF cruisers and destroyers. The model distinguishes between BMD and non-BMD ships with the red boxes accounting for limited availabilities. The stand-down periods overlap one of six different federal holidays: President's Day, Memorial Day, Independence Day, Labor Day, Thanksgiving, and Christmas/New Years. In this particular scheme, ships would be awarded an average of two and a half shorter two week-long stand-down periods a year. Sailors would be able to take out-of-area leave every year, and the rotating stand-down period guarantees well in advance that crews would get time off to experience and enjoy each major holiday and season at least once throughout a 24-month tour in Japan. If ships do not get a Christmas and New Years one year, they would be guaranteed to get it the next, and would still enjoy stand-down during holidays like Thanksgiving, Memorial Day, and Independence Day. Most importantly, the planning involved in traveling or having friends and family visit could be completed well ahead of time and with much more certainty.
This model is far from a concrete proposal since it does not account for every constraint – it's just an example that shows how optimizing the schedule a little bit could make it mutually beneficial (and more predictable) for everyone involved. However, one thing is clear – this can only help so much – as OPTEMPO continues to increase, especially BMD tasking, top leadership needs to forward deploy more BMD-capable warships to 7th Fleet. Continuously sacrificing training, maintenance periods, battle readiness, material condition, and ultimately crew and family morale is not sustainable in the long-run!

Posted by
LTJG Zachary Howitt
in
Innovation
,
Navy
Tags:
7th Fleet
,
FDNF
,
Holiday Stand-down
,
Japan
,
Schedule