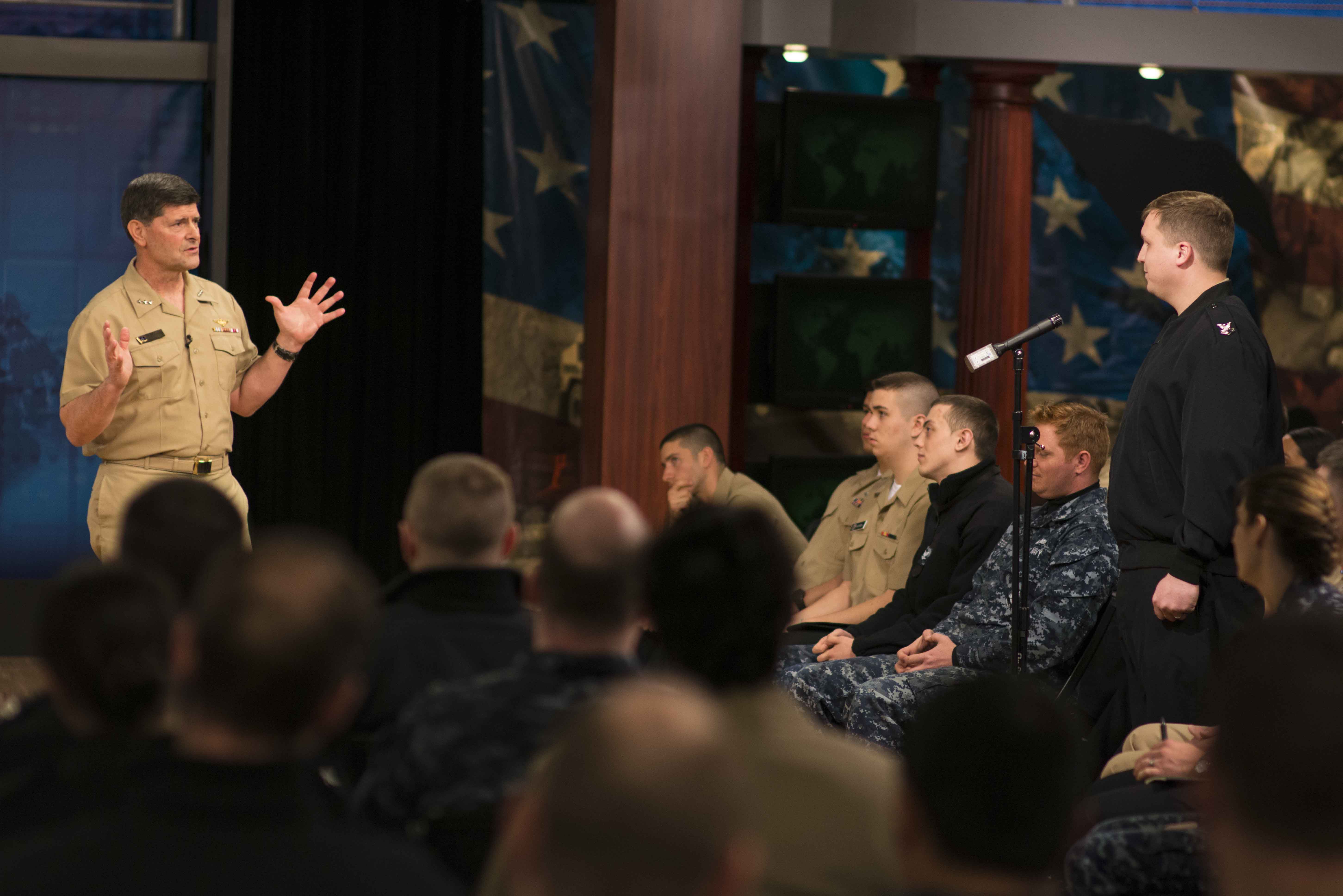 Judging from the comments on social media and the notes I have received from active and retired shipmates, the buzz surrounding CDR Guy Snodgrass' "Keep a Weather Eye on the Horizon" is real and I'm encouraged to see it. It's no surprise why this paper has become a topic of discussion in wardrooms and ready rooms around the fleet, and passed electronically across warfare communities.
Our Navy has a proud tradition of professional discourse, and this excellent paper lies squarely in that mold. Good arguments are typically dual-edged – one side passion, the other logic. Guy's passion is evident and it appears many of you share it. More than that, he understands complete loyalty means complete honesty, and I know – personally – that he wrote this paper only to help make our institution better. It already has. Top naval leaders are aware of several of the issues he touches on. Many are being studied, budgeted for, or in the early stages of implementation. Others give us pause.
I share many of the concerns and have similar questions to those detailed in Guy's paper. A quick example – many of you have heard me on the road talk about how BUPERS (being self-critical) historically "swings behind the pitch", unable to nimbly react to economic and early stage retention issues. It's not neglect, good people here trying to do the best they can with limited tools, but the fact is it has cost us in both good people and money. We have to do better, and I must say that this discourse helps.
We've all been JO's and yes we can also fall victim to forgetting what it was like, but this is also the power of discourse. The idea that there is a perception that operational command is not valued and there is an erosion of trust in senior leadership bothers me…I want to hear more, learn more from you.
Fostering an environment where folks feel empowered to share their thoughts on important issues is a core responsibility of leadership. Ideas, good and bad, have no rank. Yet the discourse can't just stop there. We need thoughtful debate on how to solve problems, not just an articulate accounting of what's wrong and who's at fault. We need leaders willing to offer new and innovative solutions to problems that at times appear impossible or hopeless. Those kind of leaders inspire all of us to continue serving men and women in our charge.
Guy has set an example for one way to ensure thoughtful debate has a voice. Please push your ideas forward — write about them, talk about them with your Sailors, up and down the chain of command. This is the only way we will overcome the challenges ahead of us – together.

Posted by
VADM Bill Moran, USN
in
Aviation
,
Innovation
,
Navy
,
Soft Power
,
Tactics
,
Training & Education