Archive for the 'USNI' Tag
"Not a military voice is heard calling for thoughtful, substantive change."

-William S. Lind, "An Officer Corps That Can't Score"
Will, "hello," suffice? William S. Lind's suggestion at The American Conservative Magazine that the Officer Corps is in a blind, intellectual death spiral is weighty indeed, but ignores the vast body of debate going on in the junior and senior ranks of our nation's military. Rather than our officer corps living in a bubble, perhaps some of those discussing the internal debate of the military writ-large need to reach out of their bubble to see the rich discussion happening -right now-.
"Even junior officers inhabit a world where they hear only endless, hyperbolic praise of "the world's greatest military ever." They feed this swill to each other and expect it from everyone else. If they don't get it, they become angry."

-William S. Lind, "An Officer Corps That Can't Score"
Mr. Lind accuses our Officer Corps of a hollow, cavalier attitude that would suggest they neither recognize nor wrestle with the threats of tomorrow or the mistakes of today. Ask any moderately informed officer on their thoughts about cyber-war, the F-35, LCS, insurgency, the utility of carriers, the proliferation of anti-ship cruise-missiles, etc.. and the opinions will be heated and varied. The Center for International Maritime Security has featured an entire week debating the merits of the Navy's,"Air Sea Battle," concept. The United States Naval Institute archives decades of articles relating to the debate over carriers. Small Wars Journal is a running testament to the continued debate over insurgency and irregular ground conflicts. There are also sometimes-anonymous outlets, like the Sailor Bob forum, Information Dissemination, or the wild wonderful world of Commander Salamander's blog; they are quite popular in -light- of the often unique and critical perspective taken by writers.
The majority of these articles are written by officers, with the approval or non-interference of their leadership. Of course, not all military leadership is necessarily embracing criticism, but that is natural to any top-down organization. We've made great strides. The Navy released the Balisle Report on its critical issues with maintenance. CDR Snodgrass' 24 page study on retention is now a topic of wide debate encouraged by VADM Moran, Chief of Naval Personnel. If, as Mr.Lind describes, our officer corps had a comical "hulk-smash" reaction to suggestions of US Military weaknesses or institutional flaws, we'd have long ago beaten ourselves to rubble in the haze of an insatiable rage.
"What defines a professional—historically there were only three professions, law, medicine, and theology—is that he has read, studied, and knows the literature of his field. The vast majority of our officers read no serious military history or theory."

-William S. Lind, "An Officer Corps That Can't Score"
Mr.Lind suggests that our modern-day officers live in a historical desert, in which the lessons of yester-year are lost. I would suggest those doubters of the military's historical memory look to the USS PONCE and the Navy's re-embrace of sea-basing. Thomas J Cutler's "Brown Water, Black Beret" is an excellent primer on the historical lessons the Navy is re-applying. Perhaps we might highlight the Navy and Marine Corps' dual scholar-heroes of ADM Stavridis (ret) and Gen Mattis (ret): admired for both their acumen in the field and their rarely equaled study of the history of conflict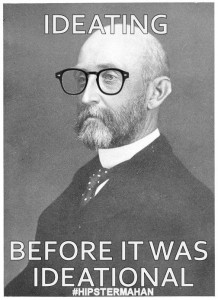 Perhaps Mr.Lind is disappointed in our lack of engagement with Mahan, in which case I would direct him to LCDR Benjamin Armstrong's book, "21st Century Mahan." Perhaps Clauswitz is our flaw? The Army and Air Force officers writing at "The Bridge" would likely demolish THAT center of gravity, if the snarky Doctrine Man doesn't get there first. Perhaps we have not learned the importance of innovation from history! The military's 3-D printing labs located around the country would likely raise their eyebrows in bemusement.
A Cleveland native myself, I understand how far Hampton Rhodes is from Mr.Lind's home on the Northern Shore. However, anyone like Mr.Lind who doubts the military, officer or enlisted, is interested in tackling the issues should make every attempt to visit the June Defense Entrepreneurs Forum (DEFx) Conference in Norfolk. From flag officers to those who paint the flagstaff, the gamut of our service will be on location, out of uniform, debating our technical and institutional challenges in an unofficial and free forum. He may even meet some members of the CNO's Rapid Innovation Cell (CRIC). If Norfolk is a bridge to far, I'd encourage the doubters to sign up for membership at the Center for International Maritime Security. We have weekly meetings in DC where we talk about everything from Professional Military Education to drone operations.
The military is by no means perfect, but such imperfection is what drives the debate that both officers and enlisted are engaging in on a daily basis. Mr.Lind suggests interesting structural reform to better cultivate leadership in our officers. However he cites the need for such reforms based on a decrepit caricature of an officer corps the US Military is not saddled with. If one hasn't, as a USNI author once told me, "done one's homework," ideas fall flat. There IS a debate happening in America's Officer Corps, an educational and engaging one. We're not too hard to find if you look.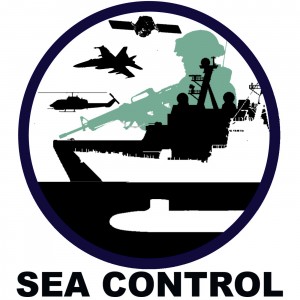 (Download: Sea Control 22 – Behind the Curtain, the First.)
A. Denis Clift, former Naval Officer, president emeritus of the National Intelligence University, and Vice President for Operations of USNI, joins us to talk about his reflections on his time in the Antarctic, Cold War intelligence, life, and the United States Naval Institute. This is the first of a bi-monthly series that will be investigating his career during the Cold War.
We are available on Itunes, Stitcher Stream Radio, etc… Remeber to subscribe, leave a comment and
Austal USA announced today that Craig Hooper, a frequent contributor to Proceeding and an alumni of the USNI Blog, is their new Vice-President of Sales, Marketing and External Affairs:
I am ecstatic that Austal values the public discussion of naval affairs and national security strategy afforded by outlets like NextNavy.com. Over the coming weeks and months, I look forward to re-engaging the public (and the naval blogosphere) in new ways while helping Austal grow to become one of the best, most innovative naval shipbuilders in the business.
Huge congratulations to Craig on the new gig!
Announcing the 137th Annual Meeting of the US Naval Institute: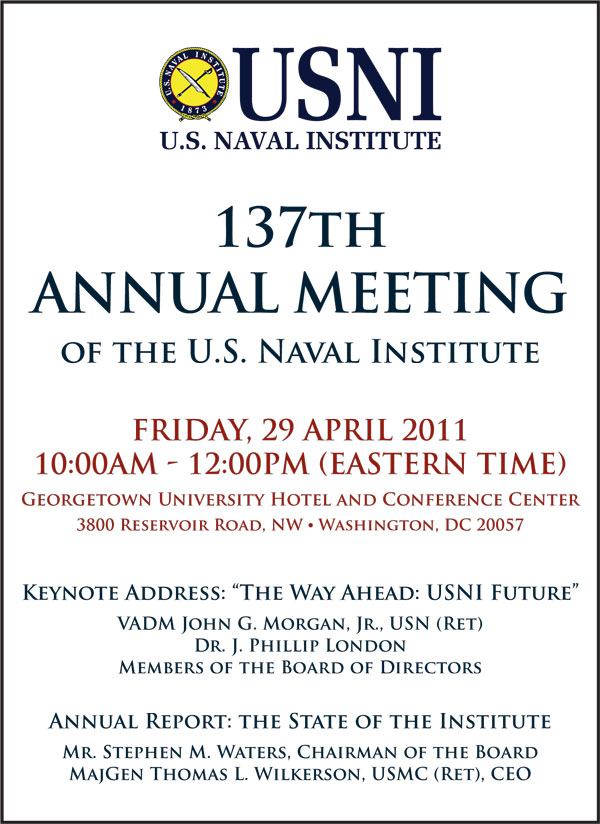 More than ever we need you there, in person, at the meeting. I'm going and have registered – registration is free (but required) for USNI members. See you there.
w/r, SJS
P.S. Don't forget to vote – while the Board of Directors may have stated the intent to "delay any change in the Institute's mission statement whatever the outcome of the balloting", balloting nonetheless continues and it is important we follow through to help establish the grounds for the forthcoming "wide-ranging and fully open debate led by the membership." Vote here.
(cross-posted at steeljawscribe.com)
Today's post comes by way of AT1 Charles Berlemann, Jr. Currently assigned to VAQ-135 (World Famous Back Ravens), he enlisted in 1998 and has made five deployments (see "Postcards from Deployment"). Interested since 1995 (Charles calls himself an "unofficial member), he joined the Institute in 1999. We have maintained correspondence for a few years now and as a former VAW MO and CO, I would have moved heaven and earth to have had someone with his presence, leadership skills, technical acumen and, let's call it what it really is, ethos in my squadron. He comes to this fora with eloquently expressed concerns about the current emphasis and projected direction for the Institute. If you are a member of the Board of Directors – stop, read and carefully consider what is written. Here is one of the bright lights in the Institute's membership and someone with real vision for its future…someone you need to pay attention to.
– SJS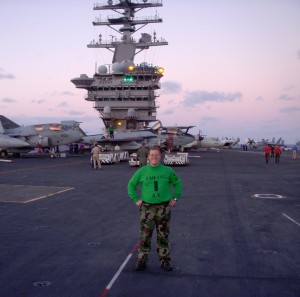 I am writing today since you dear reader care just as deeply about the USNI as I care about our organization. We want to see this organization be a place where ideas can be allowed to ebb and flow. Our organization should be willing to help people generate their ideas and not suppress them. We also want to see our organization grow with membership; whether that member is a brand new sailor walking in a graduation ceremony at RTC Great Lakes or the retired master merchant mariner in his backyard. Our publishing arm is also, incredibly important to not only ourselves, but to our nation's knowledge level. I feel that if we see a transition of our organization from an independent forum that fosters our current mission of advancing our professional, technical, scientific, and literary knowledge; over to an organization that becomes an advocacy group that we will be losing a uniquely different voice for the naval profession.
I was one of those rare geeky kids interested in USNI publications as a youngster. I have been an avid reader of both Proceedings since the mid 1980's, starting when I was in the 3rd grade. My father, who has been a member since the late 1970's, who use to leave his copy of "Proceedings" lying on his end table; I would borrow and attempt to read them. Initially I would just look at the photo captions and article titles. Even at that young age, I was asking questions about what those titles meant and why some of the articles had been included in the magazine. As I got older, I would dive into the book reviews and the letters to the editors. Every so often there would be an article which would peak my interest so I would read it in full and discuss it with my dad asking about why an article was written. I wanted to know "What is going on that led the author to ask this question?"
The big reason to attend WEST 2011 is quite simple… Undersecretary Robert Work is already confirmed to speak!
Enjoying lunch while listening to America's own reincarnation of Jackie Fisher, Winston Churchill and a wild strain of Roosevelt is a treat too rarely served to us far-from-Beltway residents of the West Coast. It is not something to miss.
It's the least you can do for the guy who, with the unveiling of last weeks' LCS "Unselect", is relentlessly forging the Navy after Next (and hey, he even finds the time to craft the occasional essay for Proceedings, too!)
I mean, to give you some idea of how influential Undersecretary Robert Work is, I'd wager that Admiral Rickover would be horribly jealous given just how effective Robert Work has been–in the space of just two years, too…
In short, the guy is unstoppable, well worth hearing, and, hey, even if you don't like Undersecretary Work, USNI has invited a whole lot of other interesting folk to drop by WEST 2011, too. Take a look. Anybody can register, and, well, what better way to justify a trip to visit San Diego in January?