Archive for the 'interview' Tag
Editor's Note: This semester the Naval Academy plebes in my naval history class were asked to write their ten page research paper on one of the former Commandants. 4/C Andrew Obst wrote his on Rear Admiral James Winnefeld, Sr. (USNA 1951), who served as Commandant from 1976 to 1978. Because of his contributions to Naval Institute Proceedings, Admiral Winnefeld is one of the featured authors in the Warrior Writers exhibit, on display at the Naval Academy Museum through 31 January 2016. Rear Admiral Winnefeld passed away a few weeks after meeting with 4/C Obst. What follows is what 4/C Obst took away from their meeting. – Claude Berube
Growing up, I always saw admirals in movies as being bigger than life, and untouchable. So as a plebe earlier this year, I was a calm and collected nervous wreak walking up the stairs to Memorial Hall from Bancroft for my interview with Rear Admiral Winnefeld. Pacing up and down the hallway for almost 30 minutes, checking my watch every minute then rechecking my planner four times to make sure the interview was in fact today. Precisely, at 1400hrs a sharply dressed older gentleman began walking up the stairs. Though he had been retired for many years, I immediately knew this gentleman was Admiral Winnefeld. As I approached him, he greeted me by my name with a pleasant smile accompanied by firm handshake. Once we reached the top of the staircase, we then walked to the exact spot where he took his oath of office, as a plebe in the class of 1947. He stood at that spot in silence for a moment. Upon taking our seats overlooking the ground, Admiral Winnefeld briefly glanced outside at the restriction muster, mumbling to himself something along the line of "some things never change," complemented by a light chuckle. Seeing this I politely asked if anything really ever changes. His reply: "only to those on the outside".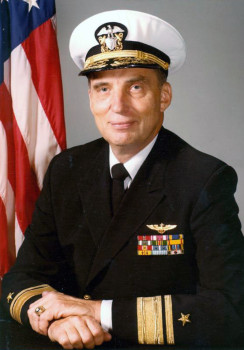 From this point on the interview started. Rather than just answering my question directly, Admiral Winnefeld would turn almost every question into a leadership lesson, by explaining his view on the question or subject then asking me what I would have done different. Prior to the interview, I expected our discussions to be full of official tone accompanied by generic responses. Admiral Winnefeld conversely, came across as a teacher. He wasn't there to answer my questions for a paper. He was there to pass down his experiences as a leader. One response in particular that continues to stand out in my mind was if an officer serves his country, or his hometown. Rather than Admiral Winnefeld answering the question directly, he told to me that the best officers he has ever been privileged to work with care about their men, leading them on the ethos they were raised by. Admiral Winnefeld followed this with the question "which service better fit his description and why".
It came time for the final portion of the interview, though I still had plenty of questions to ask about his wealth of knowledge. Admiral Winnefeld asked for questions to be stopped in order to ask questions about me. He wanted to know why I came to the academy, as well as what kind of officer I see myself as being in the future. Upon my responding, Admiral Winnefeld encouraged me to follow my goals as a leader not as an officer, explaining to me how I was going to be a great officer if I do this.
Walking out of Memorial Hall that afternoon I had empty notes for my essay, yet a full tank of lasting confidence accompanied by a wealth of knowledge on what it means to be both an officer, and an admiral.
Obst: What do you see as the role of a 21st century officer?
Winnefeld: A junior officer's role is to lead through your men and in order to both be successful as well as make your men successful you must have your men be successful. Take care of your men they are the sole duty of an officer Your men's success is proportional to your own success. Learn who your men are outside of the military. You are the source their source of information, as well as, trust.
Obst: What did you for in particular look in a junior officer when you were a senior officer?
Winnefeld: Ownership in what he does no matter what job it is he will take it over and is proud of his work. He must consider his own work important. He gets his work done and looks for more work to accomplish. An Officer who needs "fire control" – they are the ones who go places later in their career.
Obst:  You've been characterized as a "mild-mannered disciplinarian" [when you were Commandant.] Do you see this as accurate?
Winnefeld: I was never a screamer I never found that as an effective way to lead. As a leader always have a commanding voice, yet you give commands in a well composed manner. I learned my basic leadership as a Company Commander of the Color Company. I considered this the most important job in brigade and also most developmental as a leader. It showed how to work within and with the chain of command as well as how to effectively communicate.
Obst: As a young officer how did you take the role of having superior authority, yet inferior knowledge?
Winnefeld: Use your men not drive them. Do not narrow your field of learning. Your job is to lead men not equipment. All of your men are experts in their own job and piece of equipment, "you are to be the expert on your men. Work with and listen to them about their individual skill allow them to teach you in there area of expertise. Use what they know and trust them and their skillset. They will in turn trust you and your orders. Push your limits, learn as much as you can about the skills of your men.
Obst: As commandant what was your plan of attack regarding the integration of women into the Naval Academy?
Winnefeld: It was mostly all planned out. Shoes and equipment were the largest concern as most did not accommodate for woman's body types. Lower leg issues were a large medical concern; this was fixed with tennis shoes the following year.
Obst: Did you feel pressure from Washington due to importance of this integration in regards to the woman's rights movement?
Winnefeld: The senior officer's job is to take care of the upper chain of command. It was my job to deal with the brigade not Washington. The Superintendent and I had a great working relationship; he had trust in me allowing me to run this process without anyone looking over my shoulder. Due to this, the process was much smoother and more effective. As an officer you must understand politics yet it is our job to lead people safely.
Obst: Do you like the idea of having a set standard across the military rather than various standards for men and women?
Winnefeld: The majority of billets require a much larger mental than physical need. It depends on the person more than it depends on their gender.
Obst: How about combat roles?
Winnefeld: These should be open for all members of armed forces yet the standard should be the same for everything due to having a need for the physical aspect. If a person can do it then let them have it. Ninety percent of our job is skillset.
Obst: Do you believe in a requirement for a person to be enlisted before being appointed to an Academy?
Winnefeld: When I was Commandant there was a high percentage of prior enlisted. Also previous college experience helps. By having all different sources of appointments as well as a multitude of commissioning sources the armed forces itself acts as a melting pot. Diversity allows our force to be stronger. A more dynamic wardroom is a more dynamic ship which is allows it to be both more versatile, as well as, effective
Obst: Is it better to serve for your country or your hometown?
Winnefeld: The best leaders have a solid moral foundation. They use this to make their decisions. Family is a way to both relate and stay grounded. It was most effective during Cold War. It allowed a leader to understand what he has back home and the value of not going to war. It teaches you how to be tactful as a person. Family is a backbone.
Obst: What differences do you see as a major difference between the Navy and Marine Corps?
Winnefeld: Marines are all about small unit leadership. Navy is more "force leadership." Naval personal are typically more inquiring making them harder to lead. Marines will do anything for their country and have immense devotion. We need both elements in order to be an effective force.
He won a Best Actor Oscar for his performance in Marty (1955). And his many screen roles include Sergeant "Fatso" Judson in From Here to Eternity (1953), General Worden in The Dirty Dozen (1967), and Dutch Engstrom in The Wild Bunch (1969). But he is perhaps best remembered as Lieutenant Commander Quinton McHale, the title character in television's madcap sitcom, "McHale's Navy" (1962-66). The congenial "real McHale" talked recently about his decade in the U.S. Navy and his film work with Naval History Editor Fred L. Schultz.
Naval History: What made you decide to enlist in the Navy rather than any of the other services?
Borgnine: I'm what you call a Depression sailor. I got a job immediately after leaving high school; I was lucky—three dollars a week and all I could eat, working on a vegetable truck. I had never thought of it as a career, but that was all I could find in those days. You were lucky to get off the streets. One day while riding on the truck, I saw a sign that said: "Join the Navy, See the World." So I went to the recruiter, unbeknownst to my mother and dad, and said I'd like to join the Navy. They put me on a waiting list and asked if I'd be ready to come when they called. I said, "Absolutely!" So I got the call and, believe it or not, got in on another fellow's case of the piles. He failed, and I made it. I believe at that time only 11 or 12 of us made it out of 12,000; that many people were ready to go into the service, simply because they wanted to get off the streets. It wasn't that we were bums. We just wanted to help our families, as I did, and also wanted to get out there and learn something.
So I joined the Navy and went to the Newport, Rhode Island, Training Station in September of 1935. It was a whole new experience. I'll never forget the advice my dad gave me the morning I left. He said, "You know, son, you're not going to be tied down by your mother's apron strings any more." He said, "You're going to have to go out and do it on your own."
I remember one day—I still get a little choked up about it—I was on board a ship, the four-stacker destroyer Lamberton (DD-119), and the crew was celebrating Mother's Day by listening to a program about it on the radio. That hit me in such a way that I sat under a ladder and cried. You can't imagine how hard I cried. And after it was over, I suddenly realized I had cut the apron strings. But it made a man out of me. And I have never regretted one day, not ever.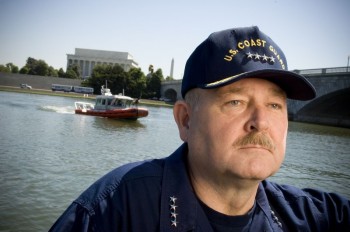 A couple of days ago, I posted part 1 of my interview with Adm. Allen, Commandant of the Coast Guard, regarding social media. Below is part 2.
Q8: There are a number of units that have created Twitter accounts to release official news and connect with the public. Is this something we will be seeing from more units, possibly as an added aspect of the PA rates assigned to the various units around the country?
A8: We don't require field units to adopt or employ any particular tool. We have provided some overarching policy and guidance that allows them to make their own assessment, based on their mission requirements, of how social media tools might be leveraged to improve their performance.
Q9: What is the best way for members of the Coast Guard interested in contributing to the social media outlets to get involved?
A9: As I stated in my "Way Ahead" message, "Unfortunately, it is impossible to ensure that information passed via the social media is complete and accurate, thus, the reader has to assume responsibility for judging the validity of the information." Simultaneously, the social media environment, and the information within it, is becoming increasingly influential. Thus, we need to be aware of what is being said on Coast Guard related topics and, when appropriate, contribute to the dialogue.
As part of our social media initiative we have released two interim policy ALCOASTS (458/08 & 548/08). These give clear guidance on how members of Team Coast Guard can influence the information environment in both official and unofficial capacities. Consistent with our long-standing public affairs philosophy, "If you do it or are responsible for it, you can talk about it."
One of the benefits and challenges to us with social media is the speed in which it moves. The Coast Guard cannot expect to continue operating strictly in the hierarchical, top-down fashion, but must also adapt to be more horizontal and collaborative or face organizational obsolescence. This is a significant cultural change for us, but I am confident that our outstanding people possess the knowledge and judgment to be able to more efficiently monitor and evaluate the information environment they operate in and effectively and deliberately engage in the dialogue to further Coast Guard strategic objectives and benefit mission execution and support. This has to be done with appropriate consideration of information release guidelines that are designed to protect the Coast Guard and its members from any harms associated with unauthorized release of protected or non-public information, but it has to be done.
Q10: Are there plans to make use of the pervasiveness of social media for disseminating information during emergency situations?
A10: We have begun doing this in an ad hoc fashion. More formally, our Public Affairs program is looking both internally within the service and also working with DHS Office of Public Affairs and sister components to incorporate social media into the official Emergency Support Function (ESF) 15 practices.
Q11: With the Coast Guard's transition to FORCECOM/OPCOM and with respect to these particular commands, is the Coast Guard looking to invoke a permanent presence on the Internet with regards to continual social media updating or monitoring? I know this is currently being done by District/Area External Affiars, however, there seems an advantage of having full time (24/7) monitoring which could be done by the new Command Center structure.
A11: We are looking at including a 24/7 social media/public affairs watch in the future.
Q12: At the headquarters level, or even your direct staff, what kind of an element is monitoring the health of the Coast Guard on the internet?
A12: Just as we have always done press clippings to assess attitudes and opinions being communicated on the Coast Guard and its roles and responsibilities, we do the same assessment when it comes to social media. This is consistent with our goal of a more nimble and adaptable organization that actively senses the environment, recognizes changes and trends, and responds accordingly in the interest of mission execution, mission support and public stewardship.
Q13: As Commandant have you felt push-back from the commands around the country to not be so involved on the Internet?
A13: There has not been push-back, but there has been thoughtful discussion about the risks/benefits of this new information environment.
The fact is, the environment has changed and we have no control over that, so the choice is: either ignore the change, which subjects our organization to all of the risks with none of the benefits; or adapt to the environment, where we can mitigate the risks and leverage the benefits.
We have chosen the latter and we have been pleased with the early results. That being said, adapting to this environment is a significant cultural change and some people are more comfortable with it than others, but the more successes we achieve and share, the more adopters we are going to have and eventually it will be a natural part of how we operate.
– – – – – – – – – – – – – – – – – – – – –
Great insight into the social media movement in the Coast Guard. As I said in part 1, I'm thrilled that the Coast Guard is heading in this direction. On a side note, Adm. Allen has apparently created an official Twitter account for the Commandant. What convenient timing!
Once again, thank you to Adm. Allen for taking the time to provide us with this interview and inside perspective on the Coast Guard's social media initiative. Semper Paratus!
Photograph by Tidewater Muse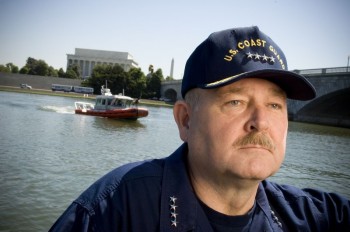 I did an interview in April with Adm. Thad Allen, the 23rd Commandant of the U.S. Coast Guard, regarding social media & the Coast Guard. The Coast Guard has been spearheading a move into the world of Web 2.0 and interaction with the public through online outlets, and Adm. Allen has been a prominent part of that transition. Here is the text of that interview:
Q1: Can you describe your personal social media journey?
A1: It would take more room than is available on a single blog. The work that really got me interested was a book. "In The Age of the Smart Machine" was written by Harvard Professor Shoshanna Zuboff. It was one of the pivotal points in my life. I was leaving my assignment as Budget Officer at Maintenance and Logistic Command, Atlantic and headed to the Sloan School at MIT. This book deals with the transition of the work environment and the nature of our work from a physical and material world to one where our work is virtual and invisible to the eye. A couple of other books that have influenced me have been Chaos, Linked, and Nexus. Social media is the merging of social networks with information technology. I have followed both for many years so this is pretty natural.
Q2: We are focusing on leadership this month in the Coast Guard. Which USCG leadership competencies relate most directly to social media? In which leadership competencies do the internal and external social media tools hold the most promise?
A2: Depending on how you are using it, social media could relate to just about all of them, but to answer your question I'll choose one from each category:
Leading self: Self-awareness and learning – Social media is all about transparency and feedback and this makes us more aware as leaders, better able to understand complex issues and respect differing opinions, and more able to sense and adapt to changing conditions.
Leading others: Team building – Social media tools can empower individual team members to more actively provide input to and influence the outcome of a project or decision. This improves collaboration and information exchange among team members and ultimately results in a better final product.
Leading performance and change: Customer focus – The "social" aspect of this new information environment facilitates two-way communications. This allows Coast Guard leaders to better understand the needs, perspectives and opinions of our customers and to help them better understand the reasoning behind a certain decision or course of action we may take that effects them.
Leading the Coast Guard: Partnering – Social media facilitates greater collaboration and provides practical ways to engage the numerous internal and external stakeholders involved in or impacted by our broad world of work.
Q3: Has thought been given to having a deployable team (perhaps as part of the DOG) of social media specialists to respond to major events and incidents? While general social media competency for all members and high level competency for PA should be a goal it seems it would be useful to have a deployable team in the interim and perhaps as an ongoing resource for high profile events.
A3: Keeping in mind that this question relates to the external aspects of social media, I think that our Public Affairs specialist are the right people to orchestrate our social media efforts during a critical incident. Much of what takes place in the social media realm already falls in their world of work and we have seen them interact in that environment with great effect, including during Hurricane Ike, the Miracle on the Hudson, and most recently with the floods in North Dakota. The external component of social media is an extension of our existing public affairs policies and practices and the public affairs program is taking a strategic look at the competencies and tools required for the future in terms of how it trains and equips its people.
Q4: One of the great features of social media is accessibility from almost anywhere at any time. How are we addressing the tension between security and access? This seems to go two ways – access to the public social media tools from inside the CGDN and access to the internal tools for those temporarily, such as being off duty or not on reserve service, or permanently, like most Auxiliarists, outside the CGDN/Portal. Our members engaged in social media activities as part of their duties appear to utilize the public tools through their own resources, largely on their own time. At the same time, for the Portal/Quickr platform to be fully effective it seems problematic for access to be limited to the duty period for active, reserve and civilian members and inaccessible to most of the Auxiliary.
A4: All great points and we have addressed this on numerous occasions on my blog and during different interviews. There will always be a tension between security and access. Our ability to exist on both the .gov and .mil domains brings with it certain security responsibilities that we cannot overlook in order to maintain the integrity of those critical networks. That being said, we recognize the strategic and operational value of social media and have directed our IT staff to find ways for us to do both. The new portal, which we are gradually phasing in, is already enhancing our ability to use social media for internal purposes. We are also working on the off-duty access issues.
Q5: For the Guardian new to social media where would you suggest they start? Internal tools or external? Building competence as privately as an individual or jump right in as part of their duties?
A5: The strength of social media is that it is flexible and adaptable to your specific needs. The first step is to develop awareness of what the different tools are and how they may be used and then consider the potential benefit they may bring to your job or unit. Ultimately, everything we do is assessed on its contribution to mission execution or mission support.
Q6: Along the same lines, what sites/blogs/books would you suggest to build social media competence, the Commandant's Social Media Reading List?
A6: I just published something like that as my 200th blog. It is here: http://www.uscg.mil/comdt/blog/2009/04/200th-blog.asp#links
Q7: Do you have examples of best practices use of social media within the Coast Guard?
A7: First we have to acknowledge that our formal foray into social media is still in its infancy. So far, the most visible activities have related to external communication. This was done deliberately, as this was the low-hanging fruit that we could use to gain some organizational inertia. These specific efforts have significantly enhanced our presence in the blogosphere, helping us to inform the Coast Guard narrative and we have seen very positive results in terms of our customer interaction, particularly with the maritime community through maritime focused blogs.
Some of this was already being done by Coast Guard employees on their own initiative, like JD Cavo from the National Maritime Center (http://www.uscg.mil/comdt/blog/2009/01/coast-guards-james-cavo-gcaptains-top.asp#links) or this example by Jorge Arroyo, correcting some critical misinformation on a sensitive rule-making issue (http://www.navagear.com/2008/12/new-ais-rules-navagear-gets-it-wrong/). Internally we are trying to increasingly use wikis to improve the efficiency and quality of the rule making and policy development processes. We expect these activities to accelerate as the new portal is brought on-line and more employees begin to champion these tools.
– – – – – – – – – – – – – – – – – – – – –
This interview is coming on the heels of a report published by the National Defense University titled "Social Software and National Security: An Intial Net Assessment" which discusses the use of social media in government agencies to share information both internally & with the public. I think this indicates an important shift in the institutional mindset of government in relation to the Internet & interaction with the American people, and I'm proud that the Coast Guard is at the forefront of this shift.
Thanks to Adm. Allen for taking the time to do this interview. I'll be publishing part 2 in a couple of days.
Photograph by Tidewater Muse